Here's an evening paddle picture: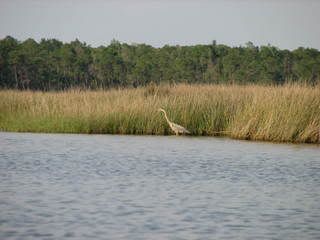 We didn't see any gators, even though we went up the bayou with the most sightings. Heard a big splash around the last corner. I guess THEY saw US.
That Old Town Millenium is really a good boat. The only thing I don't like about it is that there are no leg braces. When I get a chance I'll try another sea kayak with leg suppport and see if that makes a difference. I'm sticking with the rudder, though. Horn Island... Maybe this weekend!
This past weekend made a visit to Destin, FL - no kayaking, but had to visit the beach and it's beautiful white sand, emerald water.